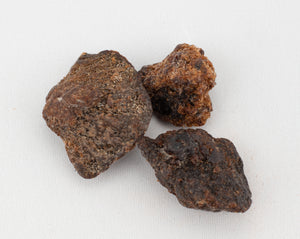 Merlin VYB Inc.
Dark Amber Resin
Regular price
$4.90
$0.00
Unit price
per
1g of Pure Amber : $4.90
10g of Pure Amber : $44.90
Incense imported from India
Now available in Merlin Sticks
Also available with a Wooden Box
See also Amber Incense Sticks made in India
Properties: Attracts prosperity. Calms and keeps in harmony the body and mind. Uplifts feelings of love and friendship. Propitious to dreams.
Burn with an Incense Burner
For greater quantities, please contact us
Tips: Amber can be burnt or not. By placing it in a closet or a drawer, its sweet aroma will delicately fill the room. It would also be appreciated in the car. You can also put it in a small quantity in a small open-work box, cone burner or a perfume burner where you have previously poured a little water. Its sweet scent, with woody and vanilla accents, will sensually embellish the entire space... This magnificent exotic fragrance will simply delight you!
---