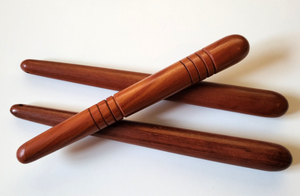 Merlin VYB Inc.
Thai Massage Stick
Regular price
$8.95
Sale price
$9.95
Unit price
per
Natural Redwood Stick designed especially for massages

Handcrafted in

Thailand

Approximately 5 ½" - 6"

Ideal for acupressure
For a demonstration on how to use the massage stick, watch this video: https://youtu.be/B19cYdnER2I
Much more than a foot massage, Thai massage is a reflexology technique designed to rebalance the nervous system by exerting pressure points on specific areas of the foot, which promotes the healing of the body by stimulating the nerves, blood circulation and helps to remove blockages and free the flow of energy throughout the body.
The rounded tip of the stick massages and presses on acupuncture points to release tension and relax muscles.
The finer tip stimulates more specifically the desired reflexology points to stimulate all the organs of the body, relieve heavy legs by improving blood and lymphatic circulation and draining toxins.
How to clean the stick
Clean well with soapy water after each use and wipe with a dry cloth. To disinfect, apply a few drops of Eucalyptus essential oil, known for its anti-bacterial and antiseptic properties.
---