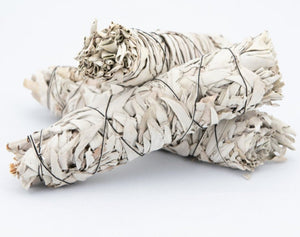 Merlin VYB Inc.
Large Sage Stick
Regular price
$13.95
$0.00
Unit price
per
Salvia Apiana

Approx. 9"

- 10"



First Quality Pure Natural Buffalo White Sage Incense
Cultivated & Hand-picked by Native American families
Properties: Powerful guardian and purifier. Increases intuition and wisdom. Contributes to well-being.
Smudge in a

n

Abalone Shell

or in an

Incense Burner

White Sage is a perennial aromatic plant named Salvia Apiana originating from North America. Considered as a sacred plant by the Native Americans, it is used and recognized for its medicinal properties. The Latin name of sage "Salvia" means health or cure, evoking its medicinal uses. "Apiana" signifies the bee, one of its main visitors.
---