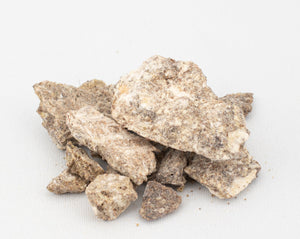 Merlin VYB Inc.
Gum Benzoin Resins
Regular price
$4.90
$0.00
Unit price
per
10g = $4.90

100g = $24.90

Premium Quality Gum Benzoin

Pure & 100% Natural

Properties: Awakens enthusiasm, idealism and kindness. Emphasizes respect for others and self-esteem. Helps to fight immoderate attitudes. Chases away gloomy thoughts and depressive tendencies.
Benzoin is a balsamic gum resin obtained from the bark of a tree named Styrax, located in South Eastern Asia: Sumatra, an island in Western Indonesia. Also known as Storax, its perfume resembles that of Vanilla, soft, sweet, velvety and well-balanced. Benzoin Resins are used as a main ingredient in
Armenian Paper (Papier d'Arménie).
---