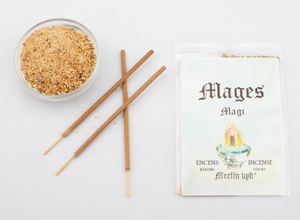 Merlin VYB Inc.
Magi Incense
Regular price
$4.00
$0.00
Unit price
per
Magi Incense Sticks by Merlin is composed of first quality pure
Frankincense
,
Myrrh
and
Gum Benzoin
resins originating from Asia, Europe, Africa and the Middle East, all natural without any chemical or synthetic additive.
¤ 12 Sticks per Package
Properties: Balances energy exchanges between the body, spirit and soul, thus contributing towards a complete regeneration.
Magi incense is inspired by an angelic tradition. Remember the Three Wise Men, also known as the Biblical Magi or the Three Kings, who traveled, guided by the Star, to visit Jesus in Bethlehem, bearing gifts of gold,
frankincense
and
myrrh
?
---